Joe Santos Garcia – Debugging Like a Pro
Sale Page: Joe Santos Garcia – Debugging Like a Pro
---
 Your Instructor
<img class="large-img-rounded img-responsive" src="data:;base64," alt="Joe Santos Garcia" data-lazy-src="https://www.filepicker.io/api/file/4ylH5ihnSNKmDR8xvfdQ" />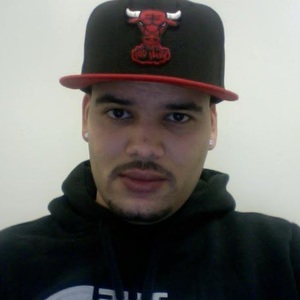 Hi my name is Joe Santos Garcia a web developer based out of NYC. I've worked on projects for major companies. I have a successful youtube channel with over 50,000 subscribers who love my tutorials and over 50,000 students world wide in multiple platforms. My goal is to get all my students and subscribers to level of being hired as a developer.
Course Curriculum
Introduction
Start

Introduction (0:44)

Start

debugging requirements (1:04)

Start

Knowing your operating system (5:17)
Terminal
Start

Command Not Found (6:02)

Start

404 library not found (3:03)

Start

SUDO Super User Do (2:12)

Start

Making Sure you have the right version (3:40)
HTML & CSS
Start

Text Editor Can Help You Find The Errors (4:11)

Start

W3C HTML Validator (8:30)

Start

Debugging CSS with Editor and Browser (23:25)

Start

CSS Validator (3:19)
---
More Business & Marketing Courses at Wish Course – Learn to Win.